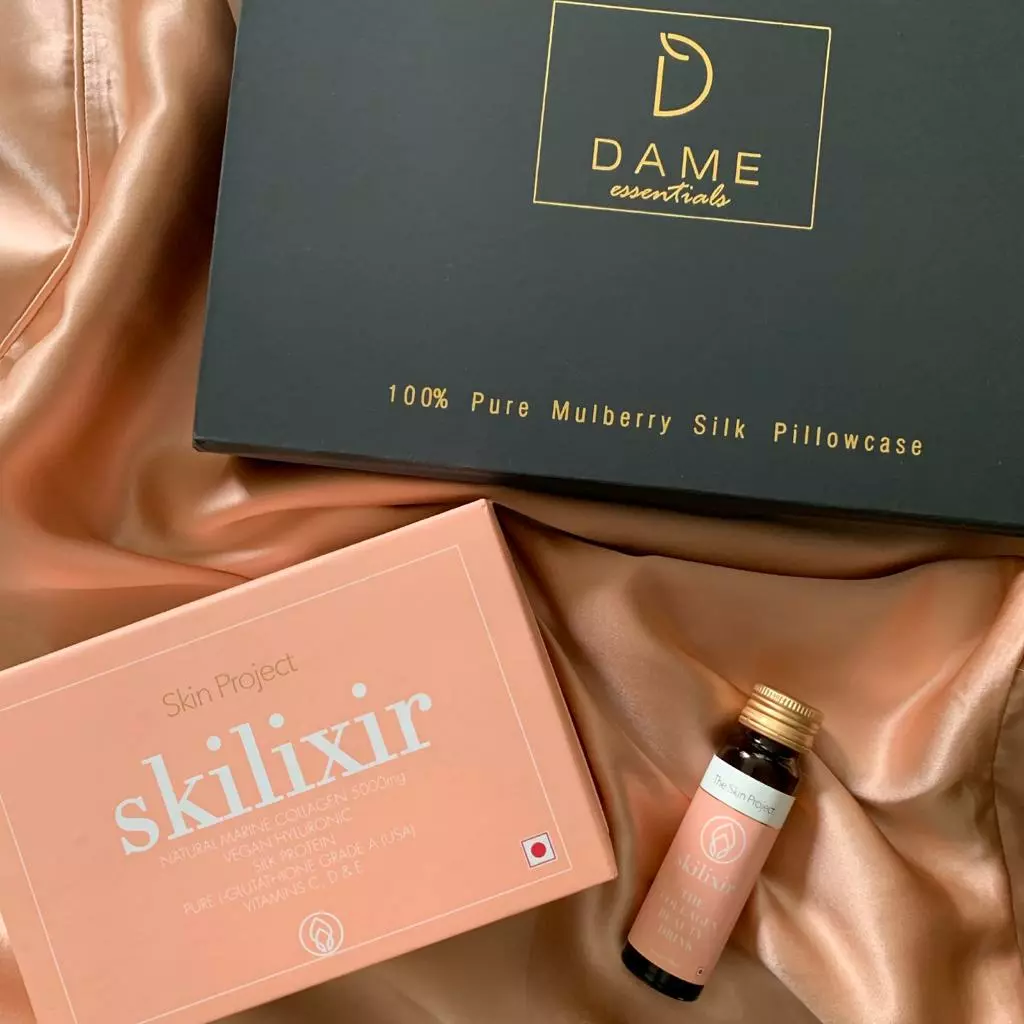 Pamper Yourself with Collagen Beauty Shots and Silk Pillowcases
Hi guys! A lot of you have been asking about silk pillowcases and Skilixir collagen shots ever since I posted them on Instagram.
Well, I've been using silk pillowcases for years! And as far as collagen supplements go, I've tried them in both powder and liquid forms – from many brands.
A quick reminder – I strongly believe you can improve your skin from inside out by following a balanced diet. Eat heathy, eat clean, avoid dairy, wheat and sugar and loaded refined foods, as much as you can; drink 2 cups of green tea, plenty of fluids, including fruits and herbs infusions; take super green powder take 500mg -1000mg good quality vitamin c supplement everyday, and exercise! Do not skip your day and night skincare regime. Change your skincare products seasonally, and always use a good sunblock every single day.
Additionally, pamper your skin with collagen shots and silk pillowcases. Believe me, they work.
SKILIXIR COLLAGEN BEAUTY SHOTS

I started taking these by Skin Project, a month ago. Natural supplements take time to kick in, which is why I took them for a while – to give you my honest review. Sorry to have kept you waiting.
Now what got me to try out these shots were the ingredients. I am a sucker for good ingredients. I always check the ingredients thoroughly before I go for any supplement. Good quality, potent ingredients give good results after all, isn't it? Key ingredients: 5000mg natural marine collagen, along with vegan hyaluronic acid. Both of these play a key role in keeping your skin firm, moist and glowing.
Rest of the ingredients, like L-glutathione and silk protein along with vitamin c, d and e brighten and regenerate skin. They also keep your hair strong, soft and lustrous.
The shots have a pleasant peachy flavor. They're natural, laboratory-tested and non-GMO; get easily absorbed by your gut. I did not experience any side effects.
Overall, the results are effective
I took one shot before breakfast everyday for a month. My hair definitely feels more dense and healthy. I think my hair was craving all those ingredients. I love the results on my skin too! It feels a lot more hydrated.
Also, my nails chip a lot on their own from the sides, which is why I keep them short. I would be lying if I'd say I didn't see any difference. My nails definitely feel stronger …They're easily available in India. For maximum benefits, try to take them for atleast 3 months.
DAME ESSENTIAL 100% PURE MULBERRY SILK PILLOWCASES

I have been using silk pillowcases forever! Trust me, you wouldn't want to sleep on cotton ones after using these beautiful, soft and luxurious silk pillowcases. Most dermatologists and hair stylists recommend using silk pillowcases, as the benefits on skin and hair are endless.
Why do I use them?
1-Silk is naturally hypoallergenic; it's made of strings of amino acids that have the same pH level as our skin. It's great for my sensitive skin – also for women who suffer from eczema and rosacea, as no allergens settle on silk fibres.
2- You get a good night's sleep as they are so luxurious and soft.
3-Silk pillowcases help maintain moisture levels, thus preventing your skin and hair from drying out. I wake up with no creases on my face and no dry, frizzy hair.
4-They reduce friction on your hair – so no knots, tangles or split ends. They work well for my colour-treated hair too.
5-100% pure mulberry silk is breathable fabric. It doesn't clog my pores.
Your silk pillowcase will last for good 8- 10 months if you follow the washing instructions properly. I hand wash mine in room temperature water. No vigorous washes, be gentle. Please don't wring them hard to squeeze out water; dry indoors, not in direct sunlight. Put your iron on silk mode, as too much heat will destroy the fibres.
These are definitely worth splurging on! Let me know how you feel after using them.