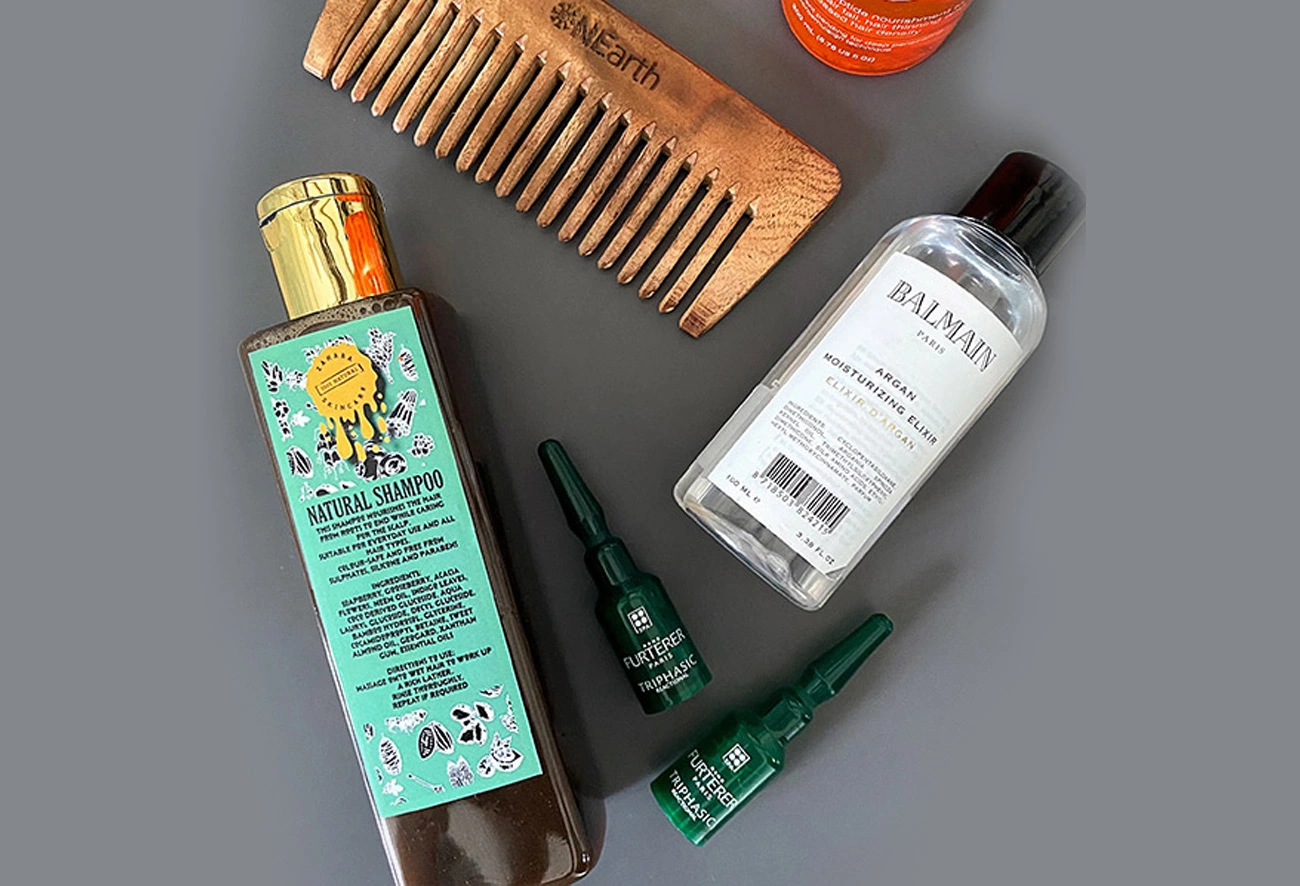 My Monsoon Haircare Routine
A lot of you have been asking me about my monsoon haircare routine. Well, on a general note, I haven't experienced any hair loss (thankfully) for a long time now. This is one problem that is common in women with PCOS. Following a balanced, healthy routine consistently makes a lot of difference. What you eat will reflect in your hair, skin and nail health!
That said, did you know nuts and seeds are rich in biotin and omegas? These keep your hair super healthy from the inside out. Also super green powders, especially spirulina! It is so dense in nutrients like iron, protein, B vitamins – complete food for your hair (always go for the organic variety, and do consult your doctor before taking spirulina, as it can interact with certain medications. It may also cause allergic reactions in some).
At the same time, it is also important to use the right products for your hair type/concerns. Problems like sudden severe hair loss, stubborn dandruff or seborrheic dermatitis have to be dealt with medically. It is prudent to consult your doctor for the appropriate treatment.
1. Products I'm currently using –
a. Brillare Deep Root Hydroil: I apply only on scalp at night. It is a lightweight serum/oil (I don't like using heavy oils in monsoons, so this one works well). This treatment nourishes the scalp, helps strengthen the roots and add shine and softness to my hair. The next day I wash it off with the all-natural shampoo by Zahara Skincare. It is suitable for all hair types, including colored hair. Free from all kinds of nasties, it keeps my scalp clean and healthy while nourishing the roots. My hair feels so soft that I don't need to apply conditioner!

b. Scalp Tonics: I am a huge fan of scalp tonics. These are non-greasy, leave-in treatments that help strengthen my hair; nourish hair roots and hence, prevent hair fall. I use Rene furterer triphasic ampoule once a week. Can be used twice a week too.

c. Balmain Argan Moisturising Elixir: I swear by this Argan Oil elixir. Just apply a pea size amount on damp hair before blow-drying to prevent dryness and breakage of hair, especially the ends.

2. Healthaid Hair-Vit Supplement

I have tried this supplement in the past, and decided to go back to it this monsoon season for that extra boost for my hair. It is not my everyday essential supplement. I only take these supplements as the need arises. I have been taking 1 capsule daily after lunch since the last two months; I plan to continue for another month.
Please remember supplements are usually taken to fulfill nutritional needs, as one may experience deficiency, often triggered by lifestyle changes. I always encourage everyone to maintain a healthy lifestyle through natural means. But, if you have to take supplements, it's best to consult your GP first. What works for me (or anyone else) may not work for you.
3. Avoid washing your hair with hot water as much as possible. I use lukewarm water to wash my hair. I don't blow dry my hair too often and if I do, then I make sure it's on low to medium heat. I also avoid hair styling products like volumiser, hair mousse, or strong hold hair sprays, as they make my hair too heavy and sticky in the rainy season.
I would love to hear your hair care experiences during this season. Please leave your comments below