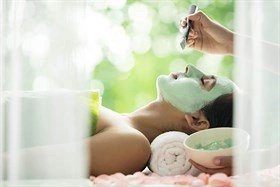 IMPORTANT SKINCARE ADVICE FOR YOUNGSTERS
It is surprising to see the number of young girls and boys in their late teens frequenting salons/parlors these days, for latest facials and skin treatments. While it is good to take care of your skin at a young age, I am skeptical about their understanding of their skin – what it needs, and their choice of treatment thereafter.

About Facials
I often get asked by people in 20s, "Am I too young to go for a facial? Aren't they to keep your skin looking younger?"
The answer is no. My elder son, who is 25, has been going for medical facials since he was 20, as his skin is prone to acne. The facial helps keep his condition under control. Having said that however, less is more! Once every two months (once a month for adults) is perfect if you just want to pamper your skin.

For Teenagers
I suggest you follow a good skincare regime at home (by using natural, home-made DIY scrubs and cleansers; use a good SPF). In teenage, the skin is prone to problems. Always focus on drinking adequate water, eating healthy, avoiding oily food, including fruits and greens in your diet.
If you really feel the need to go for a facial, my advice would be to visit a medi clinic where a dermatologist examines your skin, and recommends a facial treatment according to your skin type/condition. I personally do not rely on beauty parlours, where you may not know if the therapist is well qualified.

If you are still in doubt, opt for something that's all natural, such as a seasonal fruit scrub. Be mindful of what suits your skin type. Stay away from chemical peels, and ensure the products are of good quality or/and are certified.
P.S.
In case of problem skin (like regular skin breakouts), don't skip out on seeking professional help. The Internet may not always be the right place to seek help ☺
Let me know about your thoughts.
Love,
Shagun
#StayRealStayYou
Follow Us At Facebook