Vitamin C Serums of the Year
We all want brighter, healthier and overall better-looking skin. For that, the one thing we need in our everyday skincare routine is a good skincare serum. Believe me, a good one can actually do wonders for your skin. I have tried and written about so many of them over the years. That said, I'd like to introduce you to two amazing and effective vitamin c serums.
Why Vitamin c?
Vitamin c is one powerhouse ingredient, and so a good c serum works on many skin concerns – it promotes collagen production, refines fine lines, keeps your skin supple, fades pigmentation, evens out skin tone, protects your skin from environmental factors, and brightens the skin.
C serums are mostly for day use though some women prefer using one at night too – especially those who have very oily or sensitive skin. Most importantly, with c serums, you must never forget to apply a good sunscreen; otherwise it might darken your skin, make your skin highly sensitive to the sun, and even cause pigmentation.
Here's why these serums work for me:
PIXI VITAMIN-C SERUM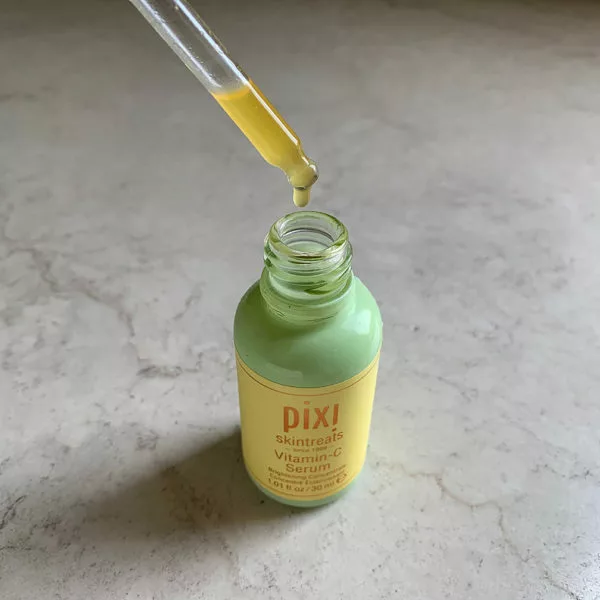 PIXI Skincare has become an extremely popular cult beauty brand. They have a huge store in Carnaby Street in London (always swamped with their die-hard fans).
I used their vitamin c serum throughout my Mykonos trip. The non-sticky, antioxidant-rich serum is formulated with citrus extracts and ferulic acid, along with other ingredients like caffeine, tea tree flower extract and tocopherol (a class of vitamin e compounds). It gets instantly absorbed, which is also why it left my skin feeling moisturised, light and non-shiny. I noticed my pigmentation was under control too.
I even used a tiny bit under my eye area (but not too close to eyes) to brighten it. Needless to say, I enjoyed using it, and finished the entire bottle. The only down side – the bottle/packaging does not talk about the strength of the vitamin c in it.
It's suitable for all skin types. You can get one from Sephora India stores, and online too.
ZO SKIN HEALTH 10% VITAMIN C SELF ACTIVATING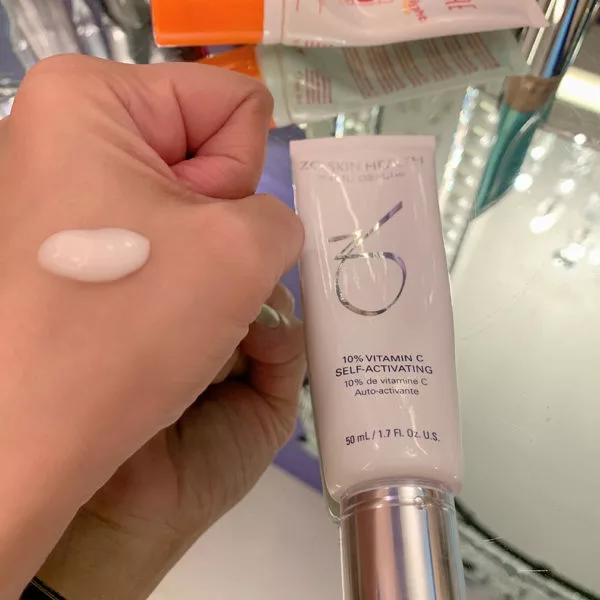 ZO Skin Health skincare range by Dr. Zein Obagi contains extremely potent, pharmaceutical grade ingredients. Top dermatologists worldwide prescribe their products, and if used wisely, you may actually see a huge difference in your skin. I have used tons of their products in the past, and I swear by them.
Their 10% Vitamin C Self-Activating serum is really lightweight, so much so that it gets absorbed within few seconds after applying. It tingles a bit when applied, but the sensation subsides in no time.
It's got a silky cream texture; not in serum/liquid form. Active ingredients – 10% ascorbic acid (the purest form of vitamin c), coenzyme q10, squalane – all these prevent formation of new spots, improve hydration and brighten the skin. Although low on strength, it is one highly effective product. I must also mention that the serum is packed in an airtight container, which ensures the potency remains as strong. It's suitable for all skin types.
In India, Zo Skin health products are only available at dermatologists' clinics.
Other tried and tested vitamin- c serums (not numbered by popularity) –
Obagi vitamin c serum . Comes in different strengths so pick according to your skin type. Available in India only through dermatologists.
Kiehls Powerful-Strength Line – Reducing Concentrate. Available in India.
iS Clinical Super Serum Advance. Not available in India.
DR Dennis Gross – C+ Collagen Brighten + Firm Vitamin C Serum. Not available in India.
Sunday Riley- C.E.O Rapid Flash Brightening Serum. Not available in India.
Sesderma C-Vit Liposomal Serum. Available in India.
Skinceuticals -CE Ferulic . Not available in India.
Mad Hippie Vitamin C Serum. Available on iherb.com
111 Skin – C Brightening Booster. Not available in India.
La Roche Posay Pure Vitamin C10 Serum. Would be available online in India.