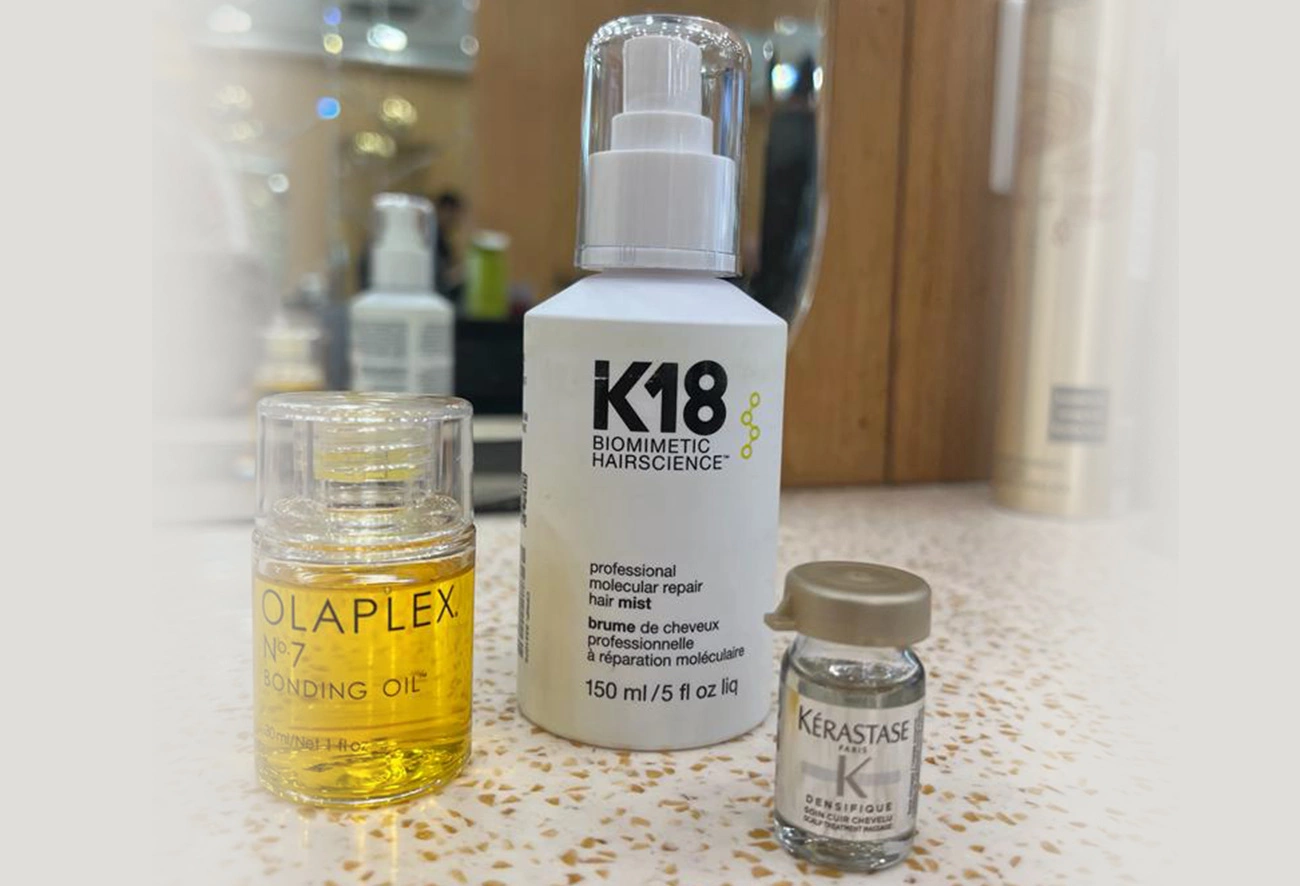 My Latest Hair Care Routine for Better and Stronger Hair
Hello everyone, I know it's been a while since I posted a blog. But as I promised earlier, I'm quite excited to be sharing my hair care routine with all of you. Since I bleach and colour my hair from time to time, it tends to get very dry. But this time, especially in the past few months, I've experienced a lot of hair breakage and even mild hair fall. I got my bloods done as I wanted to rule out any internal problems like fluctuations in the thyroid, low iron or haemoglobin levels etc. but luckily everything was alright. As I have PCOS, my hairs anyway are a bit more on the finer/limper side. So I have realised that no single product can solve the problem, but a combination of good products can combat hair fall issues both internally and externally.
Here's a list of products and treatments that helped improve the condition:
Kerastase Densifique Bain Densité Shampoo and Kérastase Densifique Bodifying Mask that I use instead of a conditioner. These two worked well for me. I've been sporadically using different products of Kerastase for quite some time. I know they are not 100% natural but they really help solve my hair problems. My hair actually feels thicker and healthier.

Kerastase Densifique Hair Tonic: I have been experimenting with this product for the past 3 months. Earlier I used to use it every day but since the last month, I have been using it thrice a week. I am quite happy to share that it has drastically reduced my hair fall and gradually promoted new hair growth. I've always preferred using scalp tonics more than oils but I do enjoy my Indian head massage with different oils now and then. As tonics are non-sticky, one can use them every alternate day or even every day. I'll be using it for another two months and then stop.

K18 Biomimetic Hairscience Pro Molecular Repair Hair Mist and Mask: K18 Biomimetic Hairscience is an in-salon treatment that helps prevent the breakage of hair. Two products are applied to washed hair. First, is the professional molecular repair hair mist followed by the leave-in molecular repair mask. The whole treatment takes about 15-20 mins after which you can blow dry your hair. I did six consecutive treatments spread across two treatments a week. It helped strengthen my hair, also add shine, volume and improve the overall health of my hair. Currently, the treatment is only twice a month.

Olaplex No.7 Bonding Oil: As I had shared in my Instagram post, I've been using this highly concentrated but lightweight Olaplex No.7 Bonding Oil for quite some time now. I've been applying a few drops of this oil on damp hair (as it provides heat protection from blow-drying) as well as another few drops on blow-dried hair, mainly at the ends to add that extra shine and strength. It's very light so it doesn't weigh my hair down at all. It even helps to tame the frizziness. And, I do see the difference in texture as my hair feel both soft and shiny.

Follihair supplement: Always remember that nothing beats a good and nourishing diet. Supplements are usually taken to maintain nutrient levels that may sometimes become deficient due to lifestyle changes. I've been taking Follihair for the last 2 months. I'll take it for another month and then stop. A lot of people complain of nausea and mostly gut-related issues after taking hair supplements. One needs to be very careful and only take these on a full stomach and not on empty stomach or at random hours. As I didn't experience any side effects, I'm taking one post-lunch. For people who want to try taking this supplement, I would advise you to go slow. Take the supplement 3 times a week on a full stomach for 3 weeks and then gradually start taking it every day. I feel it has also helped reduce my hair fall to some extent.

Organic Burst Spirulina: I've been a huge fan of this product for quite a few years. Dense in plenty of nutrients like iron, zinc, calcium, magnesium, protein, and vitamin B6 to name a few, Spirulina promotes hair growth and overall makes the hair texture strong and healthy. It also increases my energy levels and keeps the body alkaline. But before you start taking this please be wary of the side effects. It doesn't work for everyone. Some people experience fluctuations in thyroid levels; it can interact with certain medications; can cause gut and skin related issues so do consult your GP before taking Spirulina. Pregnant and breastfeeding women should avoid spirulina. As I have not tried any organic/authentic spirulina of an Indian brand, I'm only writing from my experience with Organic Burst.

Important Disclaimer: All the products listed here are from my personal experience and in no way sponsored or paid for by any of these brands. These are the supplements and products that worked well for me. But as always, it's better to consult your GP before taking any supplements to be on the safer side. Rest, do share your thoughts on this. Are there any products/supplements that helped cure your hair troubles? Do share for everyone to know!