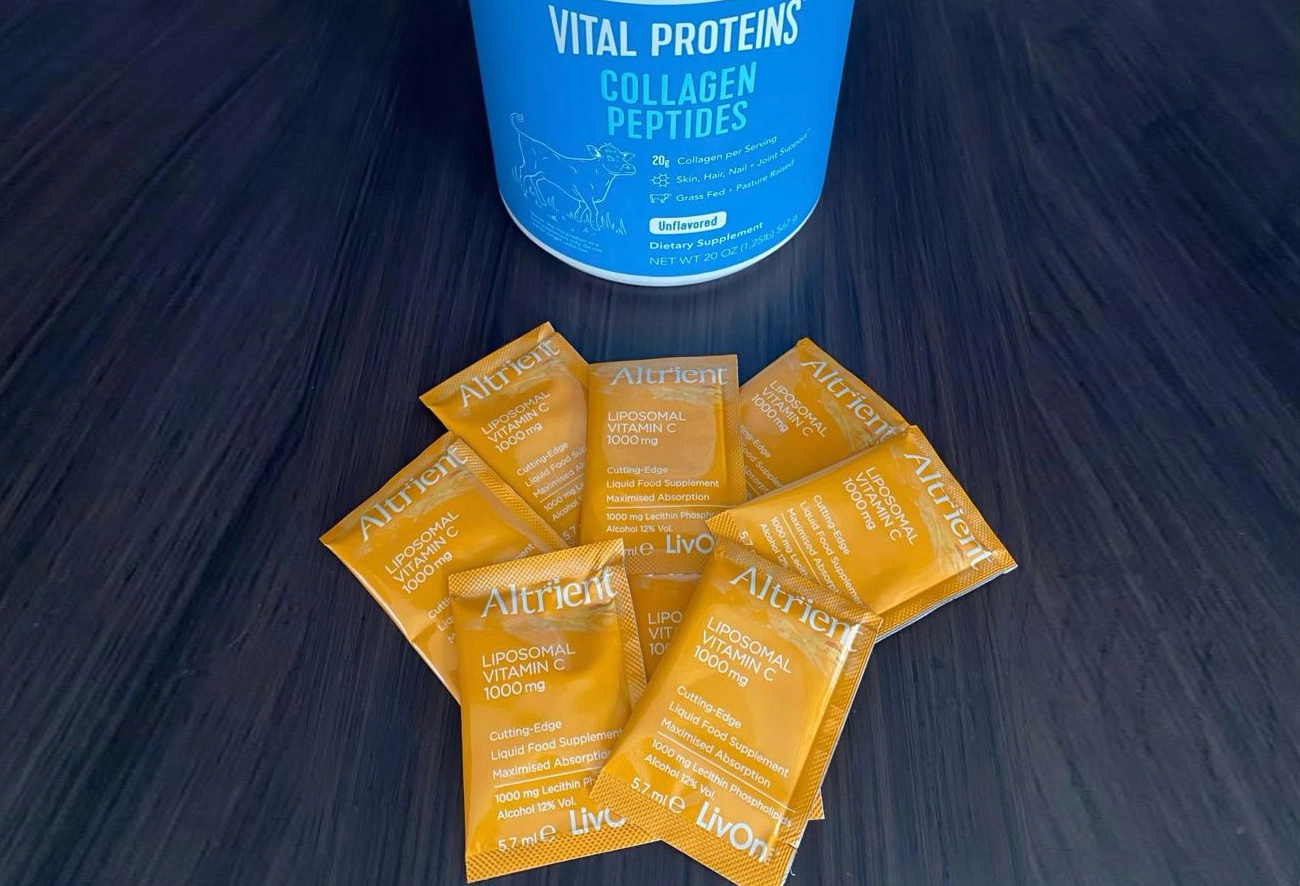 My Experience with Skin Supplements
Before I begin talking about supplements that work for my skin, I'd like you all to know that there is nothing that can match up the benefits of maintaining good health for good skin. I take care of my skin by eating healthy, keeping my fluid intake high throughout the day, hitting the gym daily for atleast an hour, following a good skincare routine and visiting a dermatologist for a hydra facial every six weeks. Having a good dermatologist is no less than hitting a bonus. She/he can guide you with specific skincare concerns in a way that a blogger/influencer cannot. Plus, good skincare products/professional treatments can only be performed by professionals in a clinic.
That said, here are some skin-related supplements that I have been taking off and on over many years.
1. VITAMIN C: If going for vitamin c, nothing beats the results of Liposomal Vitamin C. I took it regularly for 3 years, and thanks to its potent antioxidant properties, my skin looked healthy. Liposomal vitamin c enhances collagen production, improves skin elasticity and reduces skin inflammation. Apart from its fabulous skin benefits, it definitely helps boost immunity and improve energy levels. I've increased my intake from one sachet to now two everyday. It is free from artificial colours/flavours, and is vegan too. Besides, it has a very high absorption rate i.e. it gets rapidly absorbed into your bloodstream.

2. COLLAGEN: one important piece of advice with collagen powder: give it time. Please do not expect results overnight as it is no magic supplement. In fact, some people do not experience any improvement in their skin, hair and nails even after taking it for a long period of time, so it is a tricky one!

As far as my experience goes with collagen, I took it for a good 3-4 months before I saw any significant results. Fortunately, it helped reduce hair fall, and my nails felt stronger too. It worked on joint stiffness as well, that I experience at times after an intense workout session. I prefer taking Vital Proteins Collagen Peptides – two scoops in my breakfast smoothie. Now I have been taking it regularly, and I trust the brand, but here's a caveat – the product is manufactured in a facility that processes milk, fish, tree nuts, wheatgrass and peanuts. People with any kind of allergy issues should be wary of it. Also, collagen supplements are not FDA-approved.
So here's a suggestion, ladies – you can give both the supplements a try or even stick with one or you may even skip both, and derive your daily requirement of vitamin C and collagen from natural produce, such as citrus fruits, green leafy vegetables and bone broth made with mutton or chicken bones.
As for side effects, I personally have not experienced any from these two supplements. However, if you are pregnant/nursing or have any underlying medical/health conditions, please do consult your physician before taking them.
I'd love to know your experiences with any of the two. Please leave your comments below or DM via Instagram @shagunkhanna